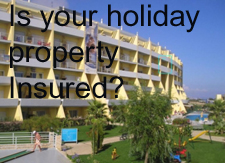 Holiday Home Insurance outside the UK and Ireland written in English
Overseas holiday home ownership is at an all time high and numerous owners have problems with foreign languages, so it is vitally important that their insurance policy is written in English.
The problem for many holiday home owners is that once they have found their dream property it's absolutely crucial that they get it properly covered. Without the right insurance policy, they could have problems when they come to claim and find out you don't have the cover they thought they had.
The property owner needs to choose an insurance company with the policies written in "plain English". jml Insurance.co.uk act as introducers to a number of specialists including Intasure, Andrew Copeland International and Devon Direct. They have been introducing holiday home owners to these products for the past three years and numerous insurance policy sales have been made as a result of their introduction.
Philip Suter of jml-insurance.co uk said "Wherever you choose to buy your holiday home, you're not going to live there full time and need to know your investment is properly protected. Having the right insurance is all about understanding what assets you own, what liabilities you are exposed to, and what external events can occur which will put you at risk.
Local insurance policies can include variations and exclusions relating to burglary, accidental damage or personal liability claims. Some of these might not include water supply or gas supply pipes or electric cables to the property becoming damaged. There might be restrictions on you letting out the property as a holiday rental or longer let. Other policies might only give a maximum of 90 days un-occupancy at a time and this is not very satisfactory if you have left your holiday home in August and don't return till the end of January for example.
It is imperative that you check all the details ("small print") thoroughly and if need to keep the electricity on to keep the heating or burglar alarm working, make sure you let the insurance company know this from the start."
Taking the appropriate action from the start will avoid problems when a claim occurs particularly if there was a fire caused by an electrical fault and under the terms of the policy, the electricity was meant to be switched off!
A client should never assume that what is covered under their UK home insurance will automatically be covered abroad, as the expectation of what should be standard cover differs greatly country to country, so that is why it does help having the policy written in English.
When the client arranges cover they must make sure the buildings costs are for the correct cost of rebuilding. Many people think that they should get building insurance at market value. If your property was worth €190,000 last year and maybe the market price has gone down to €170,000 this year, it won't affect the buildings costs.
Remember they would already own the "land" the property is situated on and so assuming the property was destroyed by fire the insurance has to cover the removal or repair of the building shell and the erecting or repair for the replacement. The sum insured should be sufficient to rebuild all buildings as well as all outdoor structures such as swimming pools, terracing or perimeter walls.
If property owners are having difficult putting a price on the rebuild, they should take advice from the insurance company. They must provide them with the dimensions, basic materials the property is constructed with get help from the insurance company. A specialist who covers a lot of countries should have comparables.
Philip went on to say " Don't forget to insure contents as well, they should be insured for their replacement value as new and one final reminder is that most policies will provide liability cover to protect the owner of the holiday home should someone be injured by, for example, a falling roof tile, tripping over a loose paving slab etc. if you rent out your property, or if you employ domestic staff, you should check that you have cover in place should a guest or an employee get injured."
Many of the holiday home specialists that you will find today not only cover holiday / second home property outside the UK, but also in the UK. Their policies are designed for that specialist market and one company is now offering policies for holiday home owners own UK main residence.
Of course these insurance companies are not only targeting the holiday home market outside the UK, but also some are targeting owners of main residence properties situated outside the UK. There numerous "ex pats" who have moved to Spain, France, Italy and other locations and they are often happier dealing with an insurance company back in the UK, particularly if they have language problems in the country they now live in.
Ends
Company Information
jml-insurance.co.uk is part of jml Property Services, the trading name of Jeffrey Milner Ltd. The company is an UK based company that was established in 1979. jml insurance acts as an introducer for insurance companies selling property insurance including landlord and tenant rental products, pet insurance, wedding insurance, motor insurance, car hire excess insurance, travel insurance and non standard insurance products. They also operate jmlvillas.com an online marketing service for owners of holiday home property to advertise and are part of the jml Group that includes jml Training and Consultancy.
© jml Property Services February 2009
_____________________________________________
Owning a holiday home is the opportunity to have somewhere to regularly visit. A home by the sea in the mountains or city centre. A base to go and play golf in the sun or sail on azure blue skies - skiing throughout the winter or walking each morning to that distinctive Mediterranean aroma of pine and bougainvillea lazing around the pool or sitting by the river watching time go by.
Whatever your reason for owning a holiday home property - pleasure - investment or business there is one issue that you must not forget - The insurance for it.
You may consider insuring locally, but then don't understand the language well enough if there are not advisers to help you in fluent English.
What is the answer? Why not use an UK based company with the policy written in English?
_____________________________________________
Why do I need Holiday Home Insurance?
If you own or are purchasing a holiday home in the UK then most standard household insurance policies will not protect rented property
You therefore need to a specialist policy for your holiday home property that is designed exclusively for properties used as holiday homes or let for holiday use. As an owner of a holiday home, it is vital that you fully understand the extent and limitations of your insurance policy. What restrictions are in place when letting and unoccupancy etc? Do you have cover for public liability or loss of use?
Holiday home insurance policies abroad can be full of catches - Take care.
Claiming on a holiday home insurance abroad can be very complicated. Dealing with complex insurance policies on overseas homes is something more and more people are having to come to terms with.
There are now more than 1 million properties owned by the British.
What can you do? First of all read and check the small print in the policy. If it is in a language that you do not understand have it translated.
Establish whether your cover does exactly what it is so that the insurer cannot reject a claim at a later stage.
Make sure that your property is compliant for a country's particular legislation. In France now a swimming pool has to be properly gated and if your pool does not comply with the law, it could invalidate the entire policy.
Make sure that your buildings insurance covers the gardens and outbuildings, not just the house.
Let the insurance company know that you are letting the property out and when you let it out to holiday makers, make sure that the visitors have taken out their own travel insurance.
In some cases you might not be covered for subsidence and earthquakes and the Public Liability level is often lower such as in Portugal.
Rather like in Britain you might have conditions, that if you are away from the property for more than a month you might need someone to check it over regularly, drain down plumbing and leave heating on.
If you have a mortgage, the lender might be able to provide advice or as you might well have a bank account with a bank in the country the property is situated in, contact them.
A lot of British based insurance companies are now covering overseas properties and many of these can be found via the web. There are now also many multinational insurance companies operating, names that are familiar in Britain are becoming just as familiar in France and Spain. Shop around and take care.
Holiday Home Insurance
The revival of UK Holidays, low mortgage rates and extra leisure time has meant more people are buying second homes. If your additional property is your second home or an investment, they have one thing in common - the need for specialist insurance.
_____________________________________________